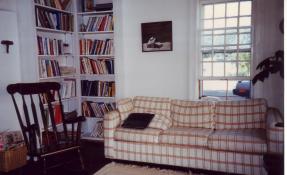 COMMUNITY AND EDUCATIONAL PROGRAMS

The Children's Divorce Center includes an extensive library of divorce-related materials that are available to children, parents, students, and professionals.

"Divorce From a Child's Point of View"  is a unique exhibit of children's divorce-related drawings from the Children's Divorce Center.  The exhibit is designed for parents and professionals concerned about children and divorce and is  presented for community organizations and continuing education programs for pediatricians, attorneys, and teachers.   The children's drawings seen on the
Services
page are from this exhibit
The Children's Divorce Center sponsors conferences and seminars (example below) for parents and professionals and  presents programs in schools for students and teachers.

Children's Divorce Center

Children's Divorce Center      88 Bradley Road, Woodbridge CT 06525